"Now what?"
It's a pretty common question Loan Officers are asking this summer.
First, everyone was waiting for May 10th.
Then, they were waiting for the summer home-buying season.
The reality is… It's a competitive market.
And, the data suggests that it will be competitive for at least the next 5 years.
This doesn't mean that it will be hard.
It means that you'll have to be an excellent marketer.
There are 3 strategies you will need going forward.
The new business card
Regardless of how you feel about it… Social media is the future of marketing yourself. It's the new business card. Referral partners will judge you based on your social media presence. They will judge you even more if you don't have one.
It's normal to judge others. We all do it. Social media is your chance to control the story they tell about you. If you don't control it… they will control it for you.
Intent will be the deciding factor
Are you doing what you do just to get more loans? People can tell. In a world full of Loan Officers "adding value" to promote themselves, your intent is under the magnifying glass. If you are working so that you can make enough money to stop working… You are likely going to have a hard time succeeding in this new economy. 
The Loan Officers who win in this market will be those who love their life. The ones who are innovating, collaborating, and improving themselves. People want to work with someone who loves what they do and is proud of all they've accomplished.
Strong sense of self
You need it… if you plan on doing anything great. The leaders we admire most all have a strong sense of self and a clear direction. It's clearly evident in their personal brand. You can see it online and in person.
We live in a world full of seekers… but, there are very few finders.
The finders are the ones winning right now.
Realtors are more attracted to them, Borrowers want to work with them, and other Loan Officers want to work for them
This market isn't difficult… It's different.
The Loan Officers winning right now have a compelling personal brand, a strong sense of self, and intent that is rooted in purpose.
---
Building a personal brand and designing the marketing systems doesn't have to take long. I have a system that can help you get there quickly. Let's jump on a Zoom and see if it's right for you.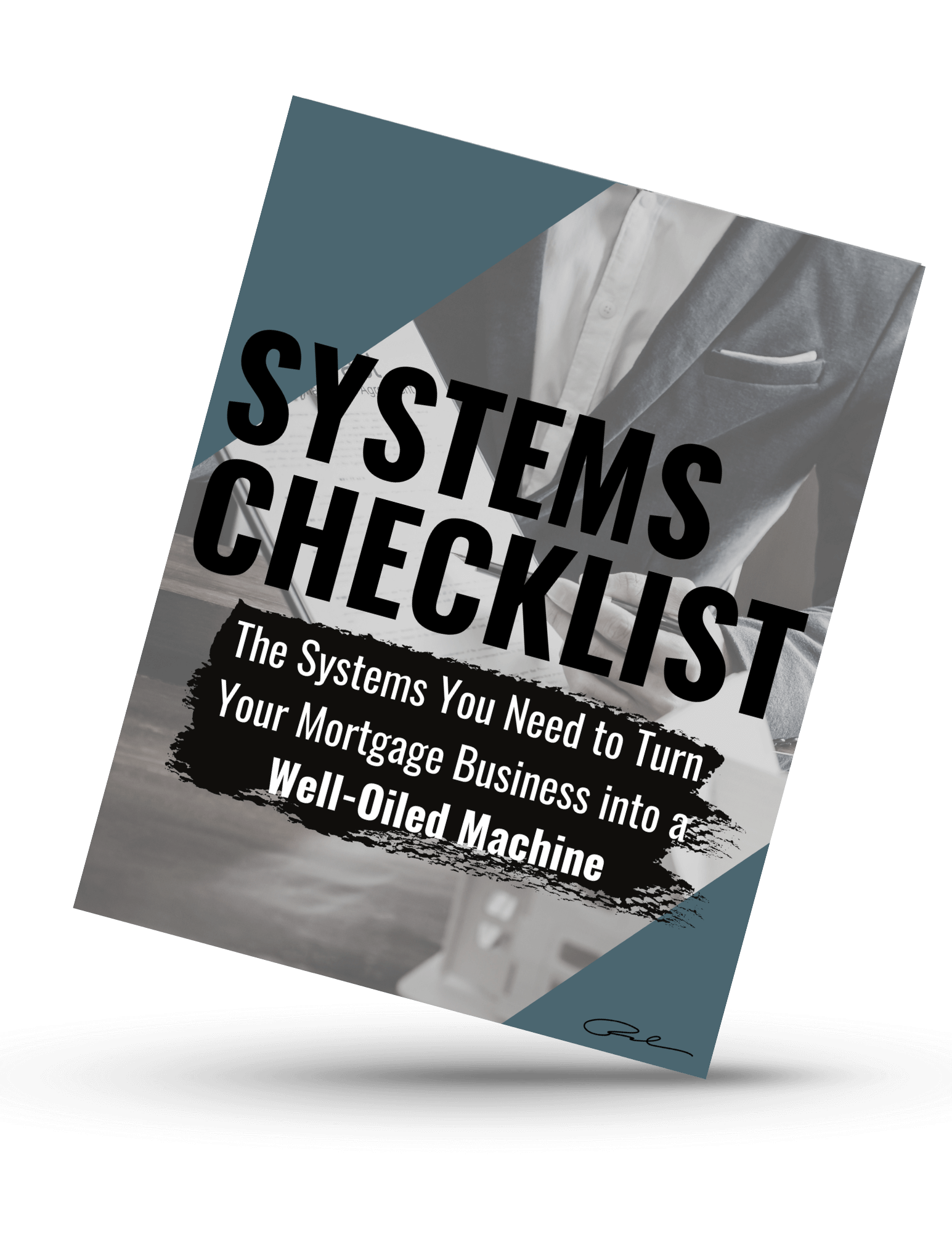 Download Your Systems Checklist: The Systems You Need to Turn Your Mortgage Business Into a Well-Oiled Machine
System Checklist Opt-in Form