You don't have enough clients in the pipeline
Realtors aren't talking about you to other Realtors
Your community doesn't know what you are good at and what you are passionate about
Your referral partners aren't using you for everything that you can do to help their clients
You don't have the share of the referral market that you deserve
Your work isn't fulfilling you
You see a better way forward but your referral partners aren't as excited as you are
Loan Officers spend a ton of time marketing. But, they are often marketing a weak personal brand that lacks clarity and uniqueness. Above, you will find seven signs that indicate you have a personal branding problem.
"Personal Branding" used to be a buzzword. It was something people did on social media for vanity and attention.
Now, it's how people make decisions about who they are going to pick.
Check out this study from the brand builders group:
A personal brand is no longer seen as a vanity move, but a critical part of being a business professional today.
Personal branding is the future: 76% of Older Millennials(born 1977-1986) say they, "are more likely to buy from someone who has an established personal brand"
Millennials and Gen Z place an unexpectedly high emphasis on personal branding in determining what they buy, where they work, who they listen to, who they recommend, who they hire, who they vote for, and even who they date.
In mortgage, you are the reason for the referrals. They choose the Loan Officer, not the loan product.
Most Loan Officers aren't showing up as a person. They show up as a Loan Officer. This branding doesn't work. Because it's called a PERSONAL brand… not a brand about your chosen career.
Looking at the seven signs listed above, would you say that you have an effective personal brand?
Do you look like a Loan Officer? Or, a person?
---
Personal branding is what I do. I have helped some of the nation's top Loan Officers create seven-figure personal brands. If you are interested in how I can specifically help, click HERE to book a call.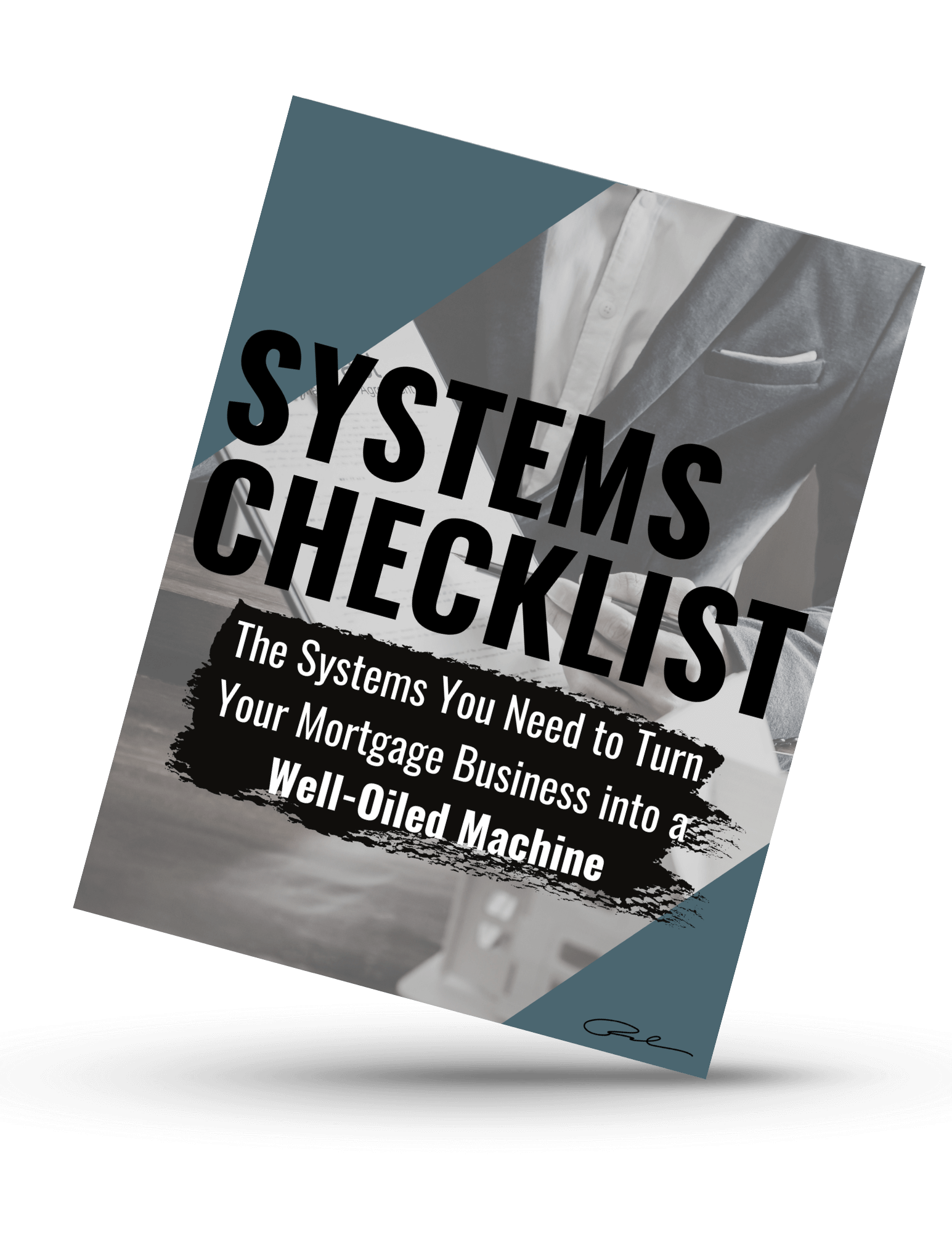 Download Your Systems Checklist: The Systems You Need to Turn Your Mortgage Business Into a Well-Oiled Machine
System Checklist Opt-in Form