December has LOs nervous.
"Am I actually as good as I thought I was?"
Are you really capable of producing large volumes in this new market?
And, do you know what to do about it?
Let's start with what NOT to do…
You cannot market yourself as a great Loan Officer.
There are TONS of amazing LOs out there. All of them are marketing excellent customer service, frequent communication, new technology, and they all claim to "fight for their clients." If everyone is saying it… then it's not rare… and it likely won't do the trick.
You can't post videos solving problems that others have already solved.
Posting videos on social media only works if your videos solve interesting problems that your audience is suffering from. Most LOs are posting mortgage tips and tricks. The problem is that clients and referral partners don't spend their time thinking about mortgages. So, posting about these tips and tricks is often boring or irrelevant. Just because other LOs are doing it… doesn't mean that they are getting any loans from it.
You can't leverage education.
Sorry, but people don't enjoy learning as much as everyone likes to pretend they do. Rather than trying to teach someone something… What if you showed them a better way to do what they are already doing?
So, what is working?
Standing out.
Be the Loan Officer who isn't doing what everyone else is doing.
Here's what is rare: being the Mortgage Professional that is rooted in purpose and is leaving a legacy.
In a world where everyone is working just to stop working… If you become the LO who is working to create change… you will win every single time.
People do business with people who are making a difference. If you can brand yourself as the Loan Officer who is actually making the world better… you will have no problem generating leads and creating referral relationships.
There is no shortage of good LOs in this world… there's a shortage of mission-driven entrepreneurs that are working hard to make an impact with their limited time here.
This beats the LO who is working so that they can stop working… It's obvious that you are in it for the money and it's ruining your brand.
---
There's a better way to show up. A way that is fulfilling and makes you more money. I have a coaching program that can show you how to do it. Click here to schedule a Zoom call to see if you are a good fit.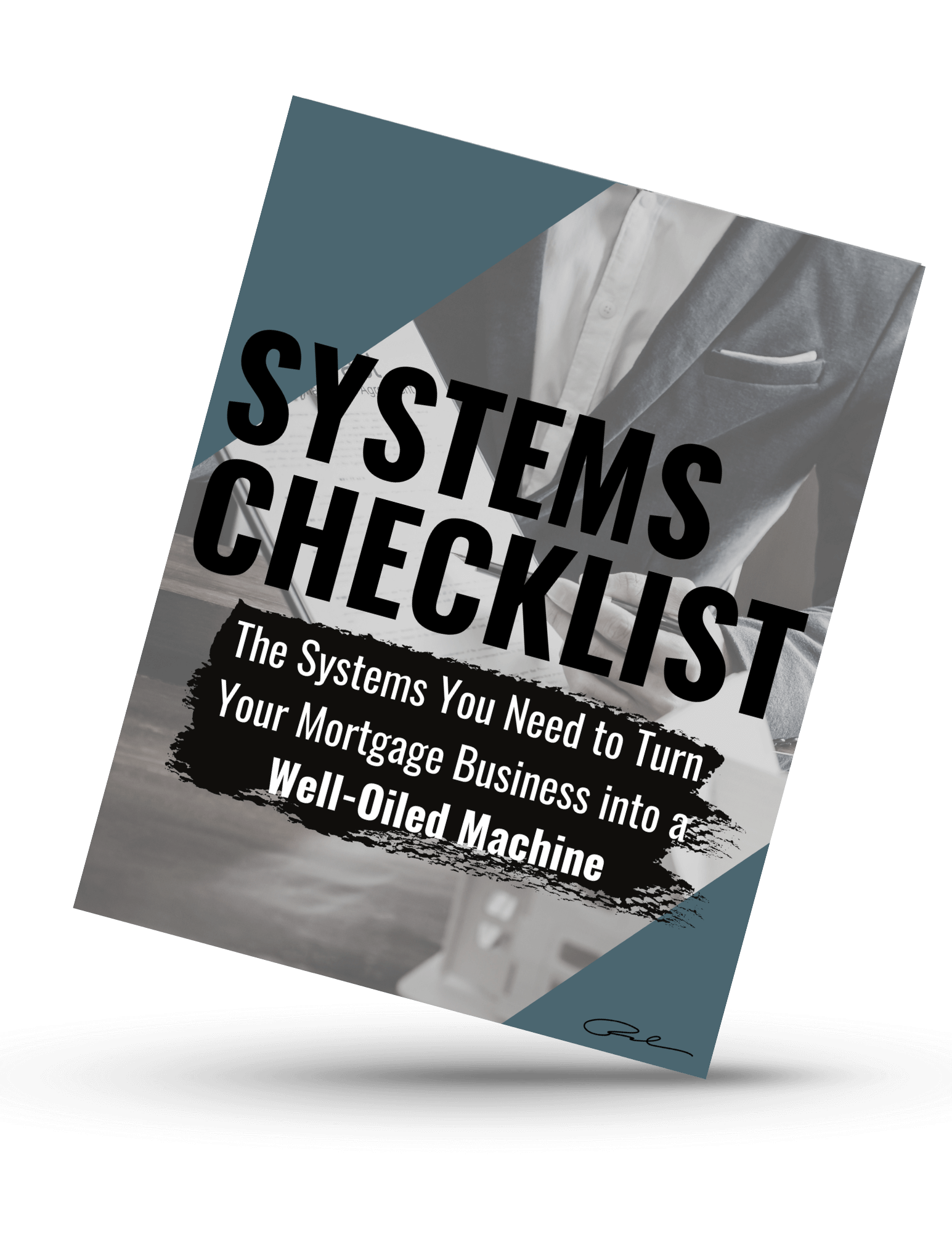 Download Your Systems Checklist: The Systems You Need to Turn Your Mortgage Business Into a Well-Oiled Machine
System Checklist Opt-in Form