Most Loan Officers are great marketers.
Most Loan Officers are great marketers.
They know how to make cold calls, teach Realtor classes, host events, and make videos for social media.
The problem is…
They look like a Loan Officer.
Which is fine… if you think being a Loan Officer will get you business.
The industry elites don't look like Loan Officers.
So, when they market themselves, people actually remember them.
From 2018 to 2021… you could get away with branding yourself as an LO.
Not anymore.
You'll need to step up your marketing and create a compelling personal brand.
Marketing is different than branding. Marketing is the act of getting attention. But, once you have their attention… what do they see?
Someone posting mortgage tips on social media? 
Someone bragging about "how many families they helped" this month?
Someone sending out spam emails to "keep in touch" and "add value?"
When you add all of these behaviors up… It really just looks like a Loan Officer who wants to get more business.
Is that a compelling personal brand?
I'm not saying that these marketing activities are invaluable… I'm saying that they are average… just meh. Most people can take it or leave it.
If you're wanting to be known in your market, you may want to pause for a moment and map out what it is that you want to be known for.
So, if marketing is the act of getting attention, what is branding? Branding is controlling the story that others think about you. If done correctly, this story will position you above the competition and may even compel them to tell others about you.
The truth is, posting about mortgages alone is a weak personal brand. It's a common practice performed by all Loan Officers. What people don't realize is by doing what everyone else is doing you end up looking average. Because posting videos and sending out emails is easy… They are turning into the modern version of the postcard.
Your personal brand should tell a story:
50% of your content should focus on understanding what it's like to be them and HOW you know what will help.
40% of your content should be personal. It's the person people remember. NOT the mortgage tips.
10% of your content should be expressing your purpose and your calling. In a world where meaning and fulfillment are becoming priority #1, people will be more attracted to Loan Officers who have found their purpose.
They are going to be judging you whether you like it or not… So, you're better off controlling the story (or they will control it for you).
Here's the truth, there are at least 50 other Loan Officers in your area who are good at their job. They have all the same technology, marketing, and products that you have.
The question is… How do you become the one they choose?
I'll tell you this… it won't be by doing the same stuff everyone else is doing.
If you look like another Loan Officer, your chances of being the one they choose are very low.
The industry elites don't post about ways to help get a mortgage. They post about the amazing groups they're involved in, the impact they are trying to make, the personal development events they are attending, or the other elites that they are collaborating with.
They have plenty of business, so you won't see them focused on getting more. The irony is that this lack of desperation actually gets them MORE business!
Do you look like a Loan Officer or an industry elite?
---
If you want to chat about your brand presence, click HERE to schedule a call. You'll be surprised how simple it is to control the story others think about you.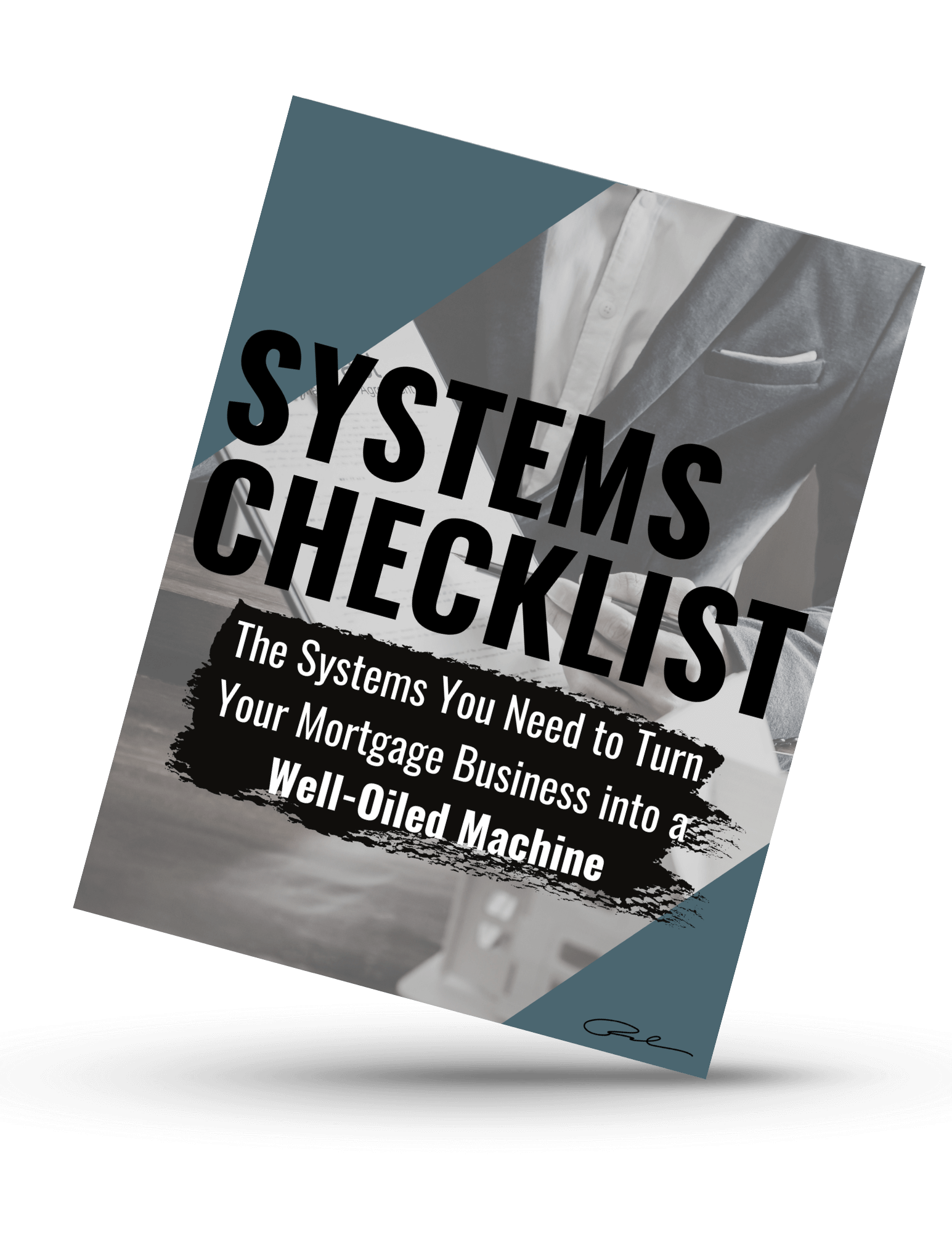 Download Your Systems Checklist: The Systems You Need to Turn Your Mortgage Business Into a Well-Oiled Machine
System Checklist Opt-in Form