It's hard to watch your production tank.
As a high-achiever, you identify as someone who gives 110% to your career.
And, you want to make the money that high-achievers make.
Just a little over 1 year ago, loans were falling out of the sky.
It was hard to keep up with all of the applications coming in.
2021 was a year to remember… the money… and the burnout.
Now, you find yourself with a different struggle.
Can I still be a Top Producer in this new market?
Well, that depends…
Are you willing to… be unique and do things that nobody else is doing?
Are you willing to… create a personal brand that people remember?
Are you willing to… be more than just a Loan Officer?
#1 Be unique and do things that nobody else is doing:
At first glance, this seems like a no-brainer… of course you want to be unique! But, being unique is far more difficult than it sounds. Most Loan Officers rely on other people to tell them what to do (management, coaches, mentors, social media gurus). The problem with this is that thousands of LOs are getting the same advice. Therefore, by the time you do it, it's no longer unique.
Everyone thinks that they are doing a great job with their marketing and personal branding because they are sending out spam emails and posting mortgage tips on social media. When was the last time you saw a super successful Loan Officer spamming your inbox, cold-calling you, or posting run-of-the-mill content on social media…? You don't see them doing it… because they aren't average.
To stand out in this new market, you need to do things that other people aren't doing. This doesn't need to be complicated… Just give people what they want. People want to be connected, enjoy a new experience, dress up for something fancy, or be a part of something that is making a difference. It's not difficult to do any of the things I just listed. Pick a date, send out invitations, and most importantly… have a compelling reason for them to attend.
The days of "adding value" are over. There is no shortage of free content anymore. The internet is full of the best material and it's all free. Stop selling yourself and start being yourself instead. People want to work with someone who is a real person. Stop forcing everyone to educate themselves and just start being their friend instead.
#2 Create a personal brand that people remember
Most Loan Officers are ordinary and they are quickly forgotten as there is no reason to remember them. This is because they have branded themselves as a Loan Officer. People don't care what you do until after they have decided that they like you and they feel like you are "one of them."
The fastest way to stand out is to stop chasing loans. Most Loan Officers think that they are being helpful when they are posting mortgage tips. In reality, you just look like someone who wants money.
The top Loan Officers in the country aren't fueled by money. While everyone else is out hustling for loans… they are getting interviewed on podcasts, speaking on stages, and coaching other Loan Officers. They aren't in it for the money. They are in this for impact and legacy…. And the money follows.
#3 Be more than just a Loan Officer
There's no shortage of good Loan Officers out there. So, if that is your only offering… you will probably blend in with everyone else. We are entering a new economy where people are looking deeper. In a world where there is no lack of great information, consumers are no longer impressed by people who are just creating content. Every Loan Officer is creating some sort of content.
In a world where being a Loan Officer isn't enough anymore… What do you do?
Do something extraordinary… Do something hard… Be someone that others admire.
The people who are winning in this new economy are making an impact. They are using their unique abilities to help others. They are coming up with new concepts and ideas that people haven't heard before.
For years, being good at your job was enough… It's not good enough anymore.
If you want to be a Top Producer in this new market, you need to brand yourself as someone who is significant. Otherwise… you will be forced to compete with everyone else.
---
Are you looking for a group of people who "get it"? My program is small (36 Loan Officers), and they are some of the best in the industry. If you have been looking to up-level your tribe, click HERE, and let's see if INdesign is right for you.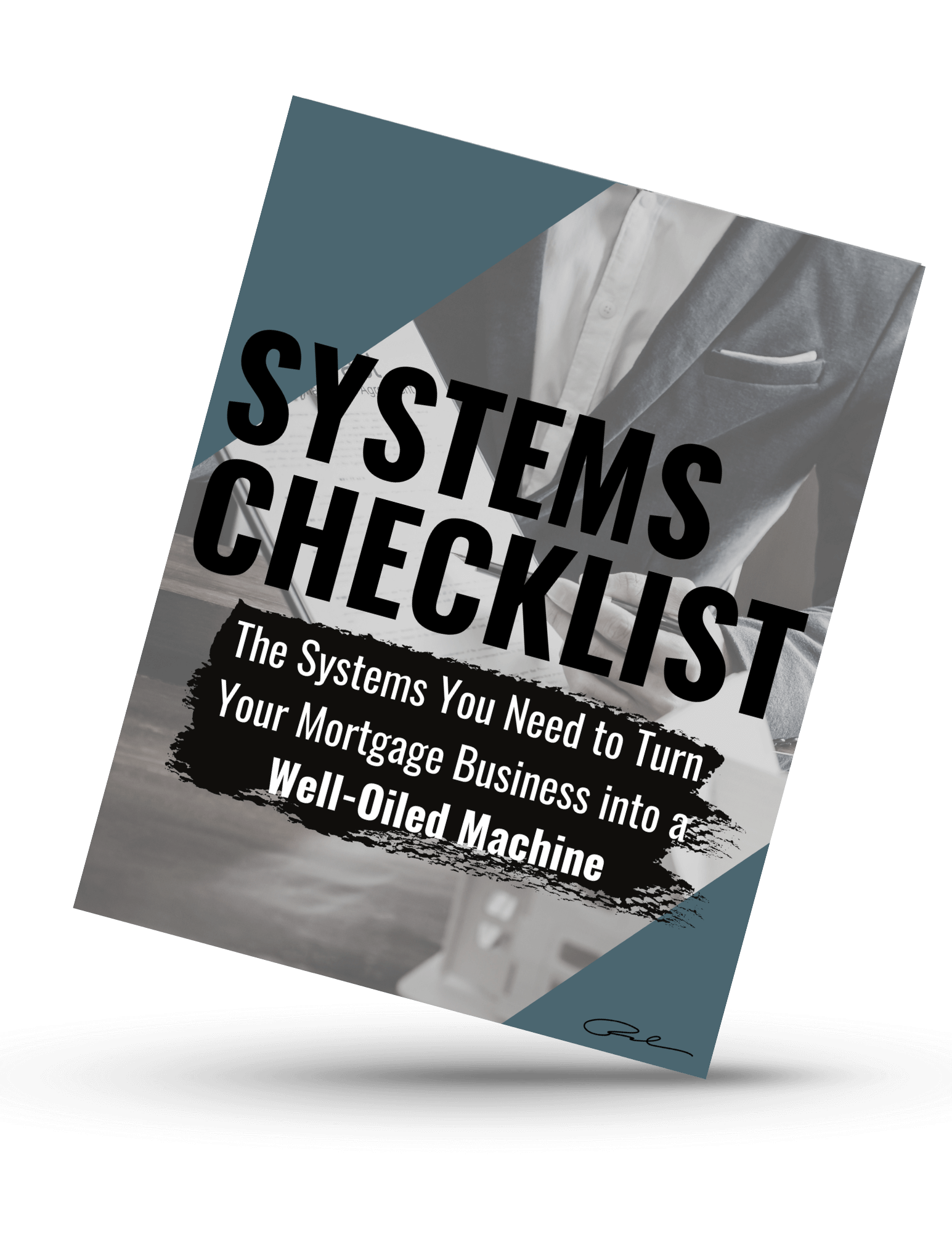 Download Your Systems Checklist: The Systems You Need to Turn Your Mortgage Business Into a Well-Oiled Machine
System Checklist Opt-in Form