The top agents are the ones doing all the business right now.
Doing business with the top 5% is a different game.
They don't attend free classes.
They aren't scrolling on social media.
They don't open bulk emails.
They don't go to lunch with people they don't know.
And, they certainly don't want to be called by dozens of LOs on Mondays.
The strategies above may resonate with the bottom 95%… but, they don't resonate with the top.
When marketing to the top 5%, you need to make sure that your marketing efforts actually appeal to them.
Seth Godin, the godfather of marketing, has an amazing quote that sums up referral marketing:
"People like us, do things like this."
What Seth means is that excellent marketing SHOWS your referral partners that you are like them (people like us).
Where do most Loan Officers go wrong? They act like a Loan Officer that has a hard time getting business. Their obsession with making more money actually makes them look like an amateur.
What kind of people are obsessed with making money?:
People who believe it's hard to get
People who believe that not having more money is holding them back
People who think that having more money makes them a successful person
The top 5% don't have a hard time making money. They don't blame not having more money as an excuse as to why they aren't doing more. Success to them isn't money… It's significance, being known, being remembered, and how many people will miss you if you were gone.
When you market to the top 5%, you have to ask yourself… Do I look like one of them?
Branding yourself is more than just what you are posting on social media. It's how you choose to spend your time. Do you really think that you are going to land top Realtors posting about 2-1 buy downs on social media?
"People like us, do things like this"
The industry elites spend their time getting the most out of their life. They are collaborating with other leaders, speaking on stage, getting interviewed on podcasts, and helping others win. They have their shit together. They aren't worried about making money. They are too busy making an impact and connecting with other industry elites.
If you want to do business with the top 5%… you need to show them that you are playing the same game that they are.
Inspired people do business with other inspired people.
---
Are you looking for a more impactful way to show up in your market? Let's jump on a Zoom. Click HERE to book a call.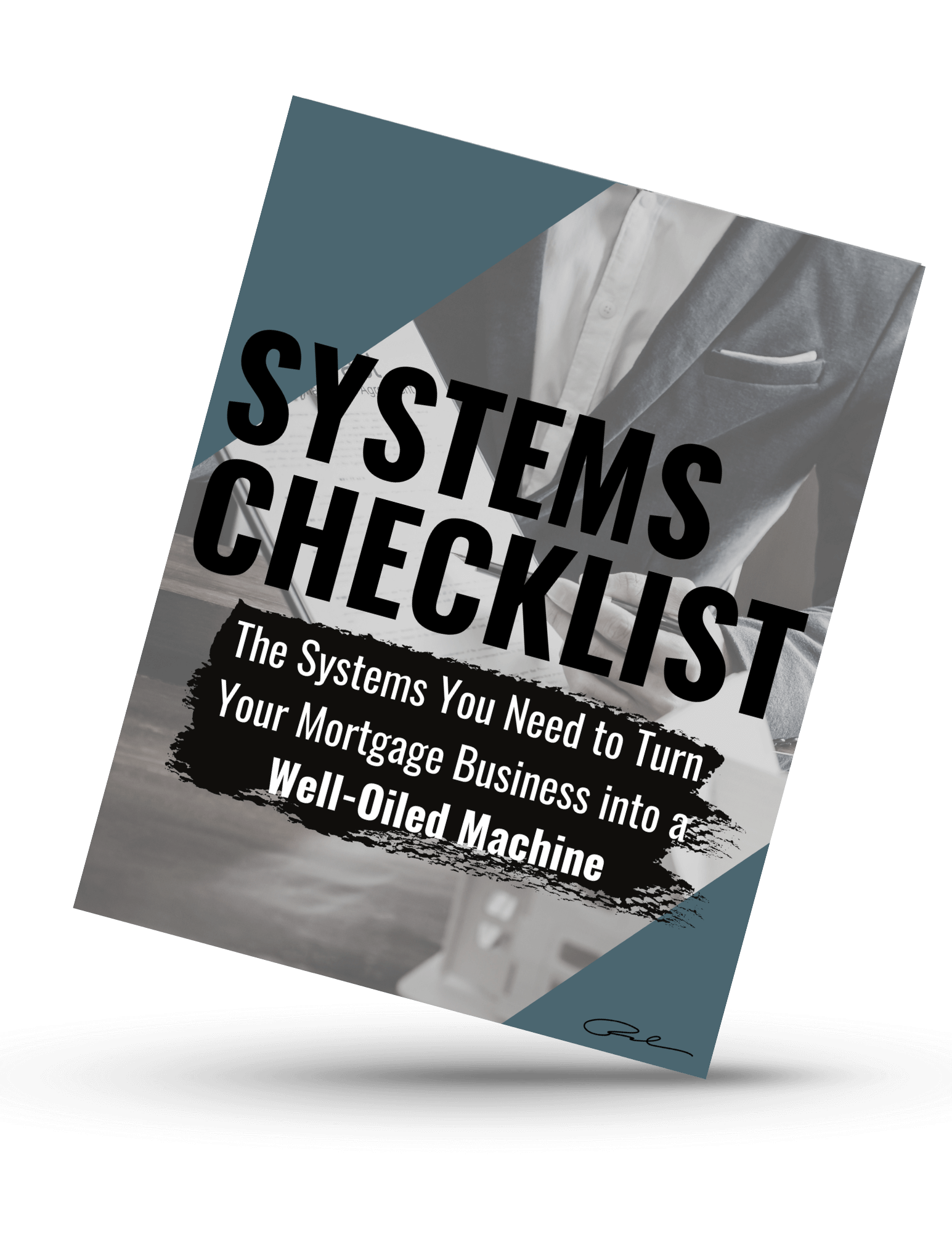 Download Your Systems Checklist: The Systems You Need to Turn Your Mortgage Business Into a Well-Oiled Machine
System Checklist Opt-in Form