Top Producers make 100 cold calls per week.
They put out fires and save stressful files all week long.
They are on-call on weekends and even on vacation!
No wonder they have lost their passion…
There's a better way to be a Top Producer.
You don't have to comply with these ridiculous rules that have been placed upon you.
The Top Producers I know haven't made a cold call in years.
They are no longer stuck in the files and they certainly aren't working while on vacation.
Just because these weird rules of success get passed down from other producers doesn't mean that they are the only way of doing things. In fact, most of these practices are outdated and inefficient. Sure, cold calling and micro-managing works… But, is it sustainable?
Here's the truth. To everyone who isn't a Loan Officer… mortgage is boring and uninteresting. There's not much you can do to change that. It's just the truth. And, even if you could find a way to get them interested, it might not even be you that they choose to get a mortgage from.
People do business with people… NOT loan officers. This is good news! It means that you can stop cold calling, micro-managing, and being on-call… as none of those things are the reason people will choose you.
The best in the industry are on top because people cannot imagine getting their mortgage from anyone else. How did these Loan Officers create an irresistible and compelling personal brand? They found their thing, their calling, their purpose… and they turned it into their unique brand identity.
When you are known as the Loan Officer who has found their purpose… you won't have to make another cold call ever again.
Stop complying with weird rules of success that you have seen practiced by other Top Producers. Build a personal brand identity that draws them to you.
---
Want to find your thing and turn it into your personal brand identity? My program can help. Click HERE to schedule a Zoom call to see if this can work for you.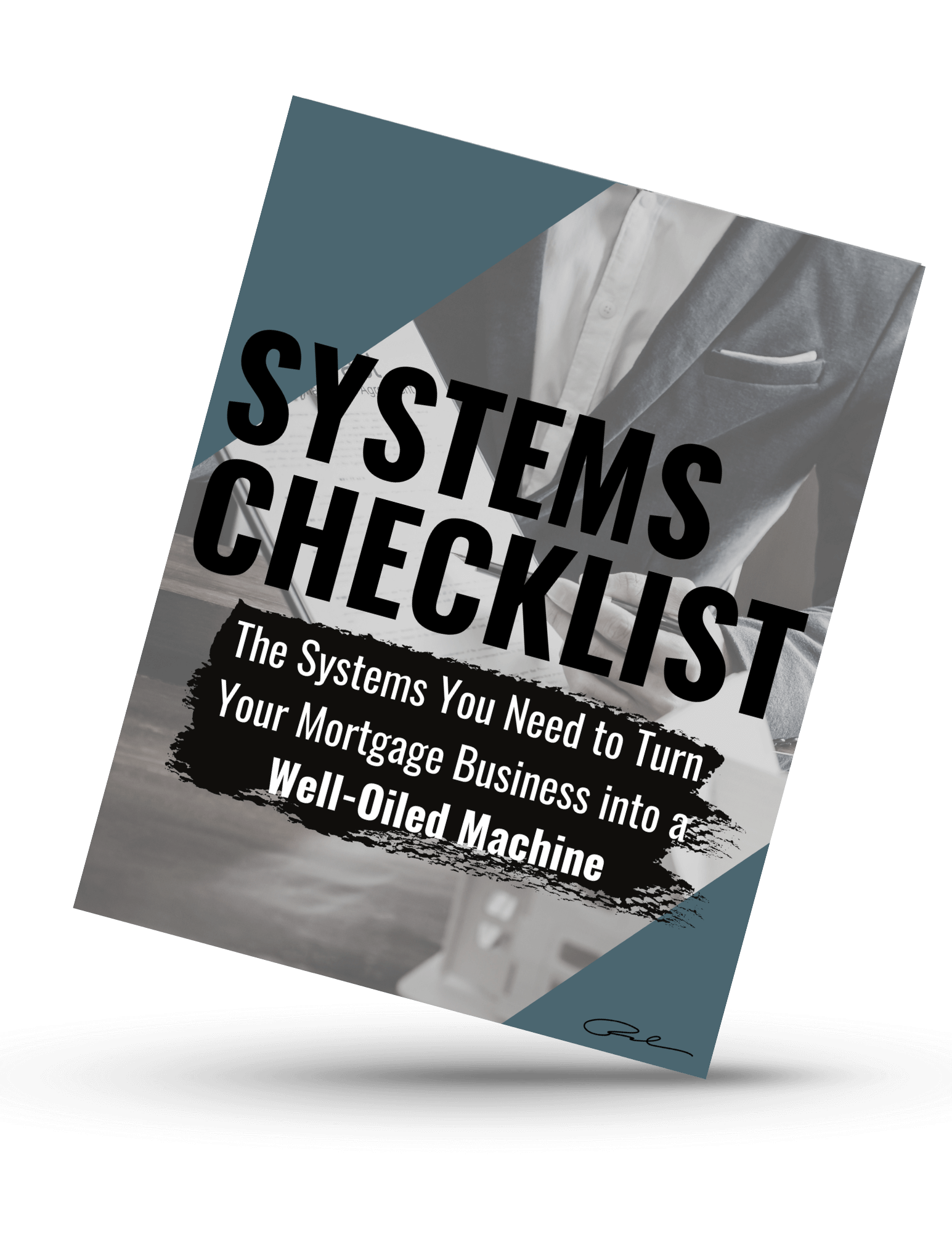 Download Your Systems Checklist: The Systems You Need to Turn Your Mortgage Business Into a Well-Oiled Machine
System Checklist Opt-in Form